Product Summary
The FW82801FB SL7Y5 is a highly integrated multifunctional communications I/O controller hub that provides the interface to the PCI bus and integrates many of the functions needed in todays communications applications.


Parametrics
FW82801FB SL7Y5 absolute maximum ratings: (1)Case Temperature under Bias: 0℃to +109℃; (2)Storage Temperature: -55℃to +150℃; (3)Voltage on Any 3.3 V Pin with Respect to Ground: -0.5 to Vcc + 0.3 V; (4)Voltage on Any 5 V Tolerant Pin with Respect to Ground (VREF=5 V): -0.5 to VREF + 0.3 V; (5)1.8 V Supply Voltage with Respect to Vss: -0.5 to +2.7V; (6)3.3 V Supply Voltage with Respect to Vss: -0.5 to +4.6 V; (7)5.0 V Supply Voltage (Vref)with Respect to Vss: -0.5 to +5.5 V; (8)Maximum Power Dissipation: 2.0 W; (9)Maximum Sustain Supply Current ICC: 410 mA.


Features
FW82801FB SL7Y5 features: (1)Supports Intel processors, the 82815E GMCH and the 82810E GMCH; (2)8-Bit Hub Interface 266 Mbyte/s maximum throughput; (3)Two integrated LAN controllers; (4)Low-Pincount (LPC)interface; (5)Firmware Hub (FWH)interface Supports 8-Mbyte memory size; (6)Integrated IDE controller supports Ultra100 DMA, Ultra66 and Ultra33 DMA mode transfers; (7)Two cascaded 8237 DMA controllers; (8)Integrated 82C54-compatible timers; (9)Real-time clock with 256-byte batterybacked CMOS RAM.


Diagrams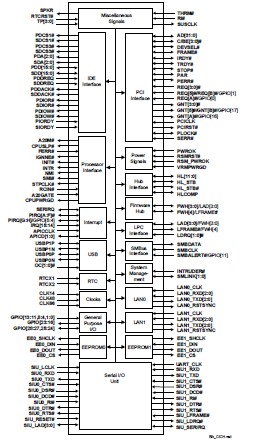 FW82439HXSU115



IC 82439HX SYS CTRL MHXC 324BGA

Data Sheet



| | |
| --- | --- |
| 0-1: | $10.88 |
| 1-10: | $10.61 |
| 10-25: | $9.79 |
| 25-100: | $8.97 |


FW82439TX

Other



Data Sheet

Negotiable

FW82439TXSL28T



IC 82439TX SYS CTRL MTXC 324BGA

Data Sheet

Negotiable

FW82443BXSL2VH



IC 82443BX SYS CTRLR 492-PBGA

Data Sheet

Negotiable

FW82546GB

Intel

IC CTRLR ETHRNT 2-PORT 364BGA

Data Sheet



FW82801AA SL3Z2

Other



Data Sheet

Negotiable